SALTEX CONFIDENT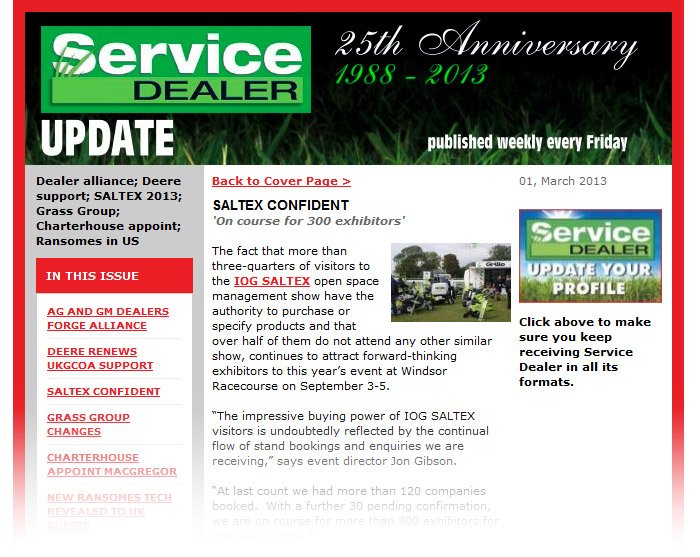 IOG SALTEX is the English fair show for open space management held annually at Royal Windsor Racecourse, this year from 3rd to 5th of September. It continues year after year to attract forward-thinking exhibitors.
"The impressive buying power of IOG SALTEX visitors is undoubtedly reflected by the continual flow of stand bookings and enquiries we are receiving," says event director Jon Gibson.
"At last count we had more than 120 companies booked. With a further 30 pending confirmation, we are on course for more than 300 exhibitors for this year's show."
According to the independent visitor survey at last year's show – which attracted visitors from 28 countries - 76 per cent of attendees were authorised to purchase or specify products from the wide range of products on view at IOG SALTEX. These include turf maintenance equipment, children's outdoor play and safety surfacing, landscaping, commercial vehicles, and outdoor leisure and facilities management.
56 per cent of the visitors to last year's show – from groundsmen and greenkeepers through to play officers, architects, designers and surveyors as well as local authority and outdoor leisure facility managers – also said they do not attend any other similar exhibition.
"These facts reinforce the view that IOG SALTEX is the only annual event where exhibitors can been seen by a unique audience," adds Jon Gibson. This confirms once more the show as the UK's leading annual event for open space professionals."