FM 2200 4WD
A hydrostatic4WD mower with out-front cutter deck and high performance 44 HP engine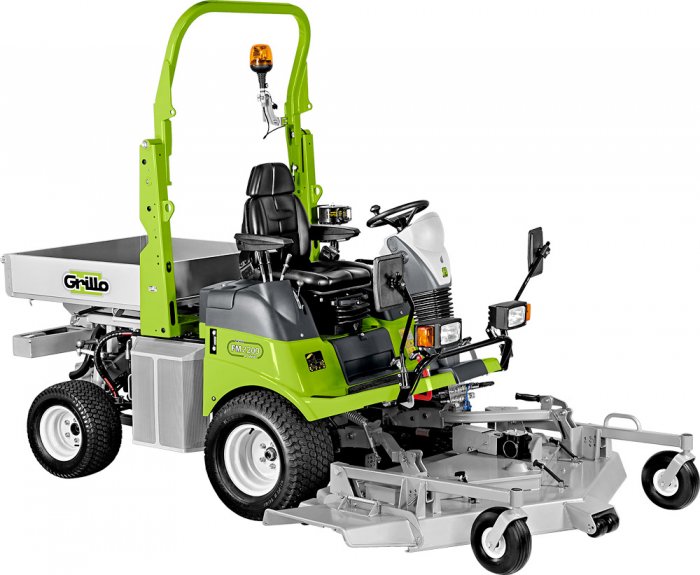 The height of technology and performance that can be achieved today on a professional hydrostatic mower.
The Grillo FM2200 has permanent 4WD and an out-front cutter deck, its 44 HP engine achieves peak power at only 2600 rpm and with a turning radius of just 62 cm it is easy to manage and stable on sloping ground!
Even the most demanding professional operator requiring a high quality cut will appreciate the characteristics of the 160 cm "LMP" cutter deck having three different cutting modes: mulching, side and rear discharge, a 150 cm all purpose flail and 175 cm snow blade.
In order to increase the number of attachments which can be used, the FM 2200 4WD has two hydraulic points as well as a hydraulic P.T.O.
The FM2200's front cutter deck ensures, together with a comfortable driving position, an extraordinary visibility on the area to be cut.
The floating cutter deck gives a regular and precise cut also on undulating ground.
The FM2200's quality cut is exceptional in particular demanding conditions with high and humid grass by the 44 HP engine has an abundance of power available.
The 160 cm "LMP" cutter deck has three blades and three cutting modes: Mulching, side discharge and rear discharge.
You do not have to change the blades, all that is required is to fit the baffles to the inside of the deck.
The whole cutter deck is hydraulically raised or lowered and has a useful safety block when carrying out maintenance work to the underside of the deck.
The cutting height adjustment has 8 positions is changed by removing a pin on 4 points, cutting heights range from 20 to 90 mm.
The 160 cm "LMP" cutter deck is equipped with little anti-scalp wheels and dampers for transport, and the cutter deck's front wheels are puncture-proof treated.
The FM2200 4WD's hydraulic connectors are fitted with quick couplings and allow the use of two services and a hydraulic motor. The services are controlled by a lever distributor, the hydraulic P.T.O. running at 34 litres/min is controlled by an electric push-button on the steering column.
The hydraulic connection system of the Grillo FM2200 4WD allows the use of a snow blade or other customisations.
The load bed with side walls made of aluminium and the floor from metal sheet, has following sizes: 105x105 cm and is equipped with a release point for manual tipping.
It is extremely useful for transporting tools such as chains saws, trimmers etc. easier and ensures an easy-to-do installation of tools such as salt spreading machines, casks, pesticide sprayer.
The load surface is further equipped with hooks to secure the load; the rear wall is tipping.
Emptying is done via a handle and by unfastening lever. In order to help when tipping, the load bed is equipped with a gas strut.
The Grillo FM2200 4WD has a high hourly output, for instance both in very large areas and in complex grounds which have many obstacles, such as plants and benches, thanks to its high manoeuvrability, to its small turning radius and to the machine's short wheelbase.
Cutting stability on slopes or across slopes is ensured by its optimal weight distribution as well as its manual or automatic operated diff-lock.
The innovative permanent 4-wheel-drive system, ensures via its differential lock working with maximum grip without slippage under most conditions without ever marking the grass coat, even with steering with maximum steering angle!
The pivoting rear axle keeps the traction on the four wheels when mowing on uneven grounds and on slopes.
There are no problems in mounting pavements and kerbs for the Grillo FM2200 4WD.
The Grillo FM2200 is manufactured with a robust chassis and the reinforced cutter deck is protected at points which are mainly exposed to wear.
During the design of the machine a large percentage of high resistant steel types was used.
All hydraulic components are sourced from the world's top manufacturers.
The Grillo FM2200 is fitted with a 44HP Yanmar 4TNV88 4-cylinder diesel engine with low rpm (2600 rpm) and is mounted on rubber blocks.
The liquid cooled engine has a self-cleaning radiator; the hydraulic cooling fan is able to reverse the rotation sense to eliminate any debris on the radiator. The activation of such system is automatic and controlled by a sensor, but can be activated also manually. The PTO clutch is a hydraulic multidisc unit with integrated blade brake and is activated electrically via a push-button ensuring high reliability and long life.
The Ferodo blade brake is adjustable to compensate for any wear of the friction material and so retain its efficiency.
P.T.O. and hydraulic P.T.O. are separately engaged.
The FM2200's high driving position is ergonomic and has been designed in order to protect the operator from fatigue during extended working hours.
The FM2200 has a wide, comfortable driving position with a dampened, adjustable seat which is equipped with arm rests. The cutter deck's controls are operated via a hydraulic lever distribution system. The folding roll bar is a standard feature.
The comfort cabin with a large field of view, heating and air conditioning kit is optional extra.
| | |
| --- | --- |
| | Apart from the standard 160 cm cutter deck with three cutting modes, side discharge, rear discharge and mulching there is the option to have the 150 cm all purpose flail with scarifier kit and the 175 cm snow blade. |
The Grillo FM2200 4WD, as all products by Grillo, was projected and built to last and keep its value for many years.
All components, from the simplest to the most complex are of a high quality standard.
Grillo fits only the best engines of the world on its machines!
Consumption, emissions, noise and vibrations are reduced to the absolute minimum.
FM 2200 4WD passed very stringent tests to prove the reliability of its drive system, cutter deck, chassis and of all other components.
Cutter deck, chassis, accessories all are built by Grillo in Italy using premium materials and cutting edge technology. All this to achieve constant and 100% controlled high level quality.
Painting of Grillo machines consists of a double electrostatic powder coated process. At the beginning there are the washing baths and the preparation, then a first protective coat is applied together with the baking in the oven, turns out to be the best basis for the application of the finishing. The second coat consisting of varnish and a further baking in the oven at 190°C convey the characteristic hardness and brilliance.
All FM 2200 4WD have been mounted with care for every detail and tested scrupulously by specialised personnel. Final inspection means also machine with started-up engine in order to check its performance This is your further and final guarantee for a high quality product.
All Grillo products are distributed and serviced by a widespread Grillo specialist dealer net. Spare parts remain available also after a lot of years.

Technical data sheet FM 2200 4WD
Engine
Yanmar 4TNV88
Start electric, with 12 V battery
Supply diesel
Displacement 2190 cc, 4 Cylinders
Power 44 HP (33 kW)
Liquid cooled with hydraulic impeller and equipped with automatic radiator cleaning device
Dry air filter with interchangeable filter cartridges, safety filter and prefilter
Fuel tank capacity
35 L
Hydraulic oil tank
25 L
Traction
Hydraulic, 4-wheel drive (permanent drive even with a narrow turning radius)
Gearbox
Hydrostatic transmission with 4 hydraulic engines on the 4 wheels
Clutch
Hydraulic with electric control activated through PTO with blade brake
Load bed
Body with tilting rear extension, manual tipping by means of gas springs. Load bed with aluminium side extensions, ground made of iron. Rear board can be opened
Differential locking
Self-engaging and manual by pushing the button
Front tyres
Turf 24x12.00-12
Rear tyres
Turf 20x10.00-10
Steering system
Steering wheel fixed on a height adjustable and reclinable column
Speed
Continuously variable from 0 to 20 km/h
Inner turning radius
620 mm
Seat
Comfortable seat equipped with springs and adjustable, with arm-rests and roll bar
Mowing capacity per hour (indicative)
15500 m^2/h
Standard features
Twin-hydraulic takes-off (max. pressure 170 bar, max. capacity 34L/1' at 2400 rpm) Additional hydraulic push-button operated PTO (max pressure 230 bar, max capacity 34 L/1' a 2400 rpm). Lights and indicator kit
Length
2500 mm without cutting deck - 3420 mm with cutting deck [cod. 9M0412]
Width
1350 mm without cutting deck - 1920 mm with cutting deck [cod. 9M0412]
Height
1850 mm with the roll bar let down – 2200 mm with raised roll bar
Clear span from the ground
180 mm
Weight
1085 kg without cutting deck - 1255 kg with cutting deck [cod. 9M0412]

In action! Photos and Videos

Implements FM 2200 4WD

Download

Full Range Catalogue 2019
(Download - file pdf - 14,24 MB)
Categories
Products in the same category