Dumper 507
The multi-purpose track carrier!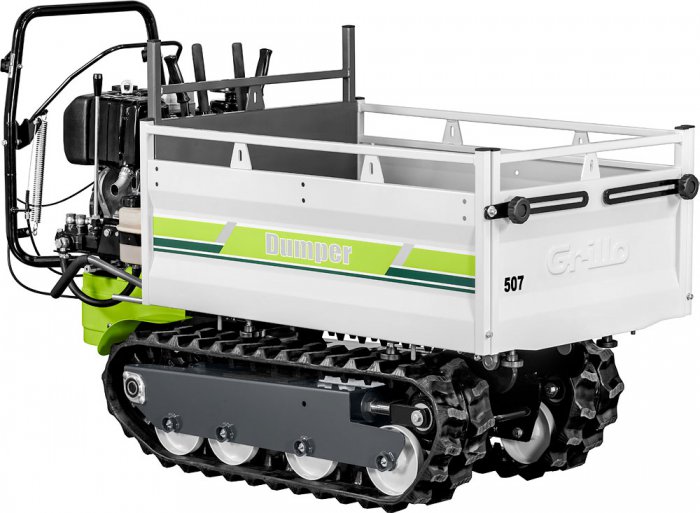 The Dumper 507 is a powerful and versatile track carrier,for transporting of various types of material in various applications.
The completely mechanized traction allows the full exploitation of the engines power; rubber tracks with chain links made of steel as well as optional high performing engine models are the basis for a useful carrying capacity of 500 kg.
Thanks to the large number of connectable accessories the Dumper 507 is not only a simple carrier, but an all round multi-purpose equipment vehicle!

The body with its floor and side boards made of steel, has a wide load platform and is equipped with hooks to secure the load. The body can be enlarged, side boards can be blocked horizontally enabling large bulky loads to be carried.
The body, in standard form, is manual front tipping; by means of an optional hydraulic kit, tipping can be made via hydraulics.

Dumper 507 is compact with a low centre of gravity. These characteristics ensure stability and safety especially on slopes.

The rubber tracks profile allows traction under types of soil conditions and gives good stability and safety especially on soils with little load bearing capacity, crumbly soil or soil located on steep slopes.
No soil type is too difficult for Dumper 507!

500kg capacity and 8,7 km/h maximal speed allows fast transportation of whatever load.
With 4 forward gears and 3 reverse gears you will always get the correct gear ration to amply meet all requirements of the numerous possibilities of use.

All control levers of the Dumper 507 are ergonomic and easy to use.
The levers were designed so to reduce the necessary force required to activate them; the result is practical and simple to operate controls.
The steering system of the Dumper 507 designed by Grillo allows the drive's gradual modulation by acting on the steering levers. Dumper 507 can make very tight curves by keeping one rubber track blocked as well as with a modulated radius also a wide radius. It's that easy!
During the first movement step, traction is taken away from one of the two steering levers and, by continuing the movement, you will progressively slowdown the rubber track by means of the brake drum. This is the secret of the Dumper 507's extreme manoeuvrability!

The Dumper 507's rubber tracks are supported by steel rollers mounted on bushings and grease points, these are very important features to ensure high reliability and longevity over the years.

The front steel rollers are fitted with compensation springs which turn out to be useful in case of debris infiltrating the rollers or in between the rubber track and drive crown wheel thereby avoiding any damage which may occur and always ensuring that the belts are correctly tensioned.

The rubber track's front inclination allows you to climb over steps of other obstacles.
| | |
| --- | --- |
| | Dumper 507 is a safe machine! It's possible to stop quickly at all times the Dumper 507 by simply releasing the control lever. The automatic brake of the Dumper 507 will activate immediately ensuring so an immediate stop even when fully loaded and also on slopes up to 48%! |
You have the possibility to choose among two available engine types, i.e. Subaru EX 17 petrol engine and Lombardini 15LD350 diesel engine. Both engines have excellent torque characteristics at lower rpm.
The engines of Dumper 507 are modern and employ the latest technology; with low emissions and noise reduction; they are available both with recoil starter and electric starter.

Dumper 507 is an ideal carrier for the use in the most different sectors: on the countryside, on construction sites, in snow, in agriculture, zootechny, industry, distribution and gardening to name just a few.

There is a large range of accessories, such as the choice between two bodies, standard or "Dumper" 230 L with automatic opening. It's possible to use the frontal hydraulic tipping system to connect an all purpose flail, sweeper, snow blade or snow thrower.
A comfortable shock-absorbed folding platform helps the operator with quick transfers.

Varnishing of Grillo machines consists of a double electrostatic powder coated process. At the first stage are the washing baths and the preparation, then a first protective coat is applied which, after the baking in the oven, turns out to be the best base for the application of the finish. The second coat consisting of powder and further baking in the oven at 190°C convey the characteristic hardness and brilliance.

All Grillo machines have been assembled with the utmost care in every detail and tested scrupulously by specialised personnel. Final inspection includes running the engine with a simulated load! This is a further and final guarantee for a high quality product.
Dumper 507, as with all products by Grillo, has been designed and built to last and retain their value over many years. All Grillo products are distributed and serviced by a widespread Grillo specialised dealer net. Spare parts remain available also after a lot of years.


Technical data sheet Dumper 507
Engine
Kohler KD15 350
Start recoil starter
Supply diesel
Displacement 349 cc, 1 Cylinder
Power 7.5 HP (5.5 kW)
Air cooled
Oil bath air filter
Engine
Kohler KD15 350
Start recoil starter and electric with 12V battery
Supply diesel
Displacement 349 cc, 1 Cylinder
Power 7.5 HP (5.5 kW)
Air cooled
Oil bath air filter
Engine
Honda GX270 OHV
Start recoil starter
Supply fuel
Displacement 270 cc, 1 Cylinder
Power 8.4 HP (6.3 kW)
Air cooled
Oil bath air filter
Engine
Rato R300D
Start recoil starter and electric with 12V battery
Supply fuel
Displacement 301 cc, 1 Cylinder
Power 8.2 HP (6 kW)
Air cooled
Dry air filter
Fuel tank capacity
5.4 L eng. R300D - 4,3 L eng. KD15-350 - 5.3 L. eng. GX270
Transmission
with oil bath gears
Traction
rubber tracks with inner steel links
Gearbox
4 forward gears + 3 reverse gears
Clutch
clutch per belt tension
Supporting surface of the track
70 cm
Load bed
Standard version equipped with side dump boards and forward tipping system. Optional: Dumper version 230 L body forward tipping system
Capacity
500 kg
P.T.O.
965 rpm independent on the gearbox
Speed
1st gear 1,0 km/h, 2nd gear 2,0 km/h, 3rd gear 3,5 km/h, 4th gear 8,7 km/h, 1st reverse gear 1,0 km/h, 2nd reverse gear 2,0 km/h, 3rd reverse gear 3,5 km/h
Steering wheel
with clutches in oil bath combined with brakes
Safety devices
automatic handbrake
Length
171 cm
Width
78 cm
Height
108 cm
External sizes of the track
65 cm
Weight
Weight of standard machine with eng. GX270 : 302 Kg

In action! Photos and Videos
The Dumper 507 is a powerful and versatile track carrier,for transporting of various types of material in various applications

Grillo Dumper 507

Grillo Dumper 507

Implements Dumper 507

Download

Full Range Catalogue 2023
(Download - file pdf - 22,93 MB)

Dumper catalogue - 2022
(Download - file pdf - 2,09 MB)
Categories
Products in the same category