HWT 700 SUPERTRAC
It's a robust brush-cutter, its high grip on the ground makes it easy to clean and cut in rough areas with high grass and also on steep slopes.
Robust with high grip on the ground.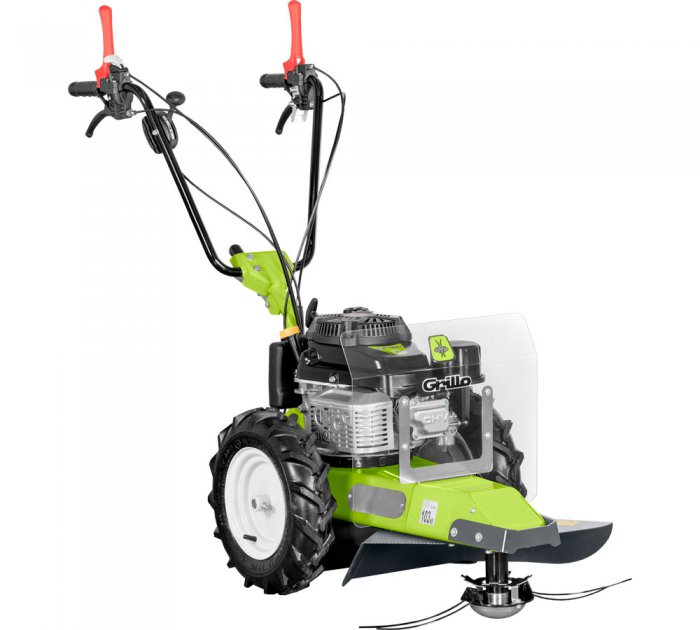 The HWT 700 Supertrac is the most performing model in the Trimmer range. It's the ideal machine. For cleaning and cutting in rough areas, with high grass and in steep slopes, suited to clear undergrowth, rural driveways, vineyards and any areas that a normal mower cannot reach.
It allows you to clean kerbsides, forecourts and roundabouts.
In small areas it may be used as a normal mower.
The HWT 700 Supertrac is fitted with a single-cylinder Kawasaki engine FJ180V KAI, OHV 170 cc,
4.5 HP, and a fuel tank with a capacity of 1.7 litres.
This engine has a double element air filter for intense professional use and an anti-grass grid to keep the
engine clean.


The transmission consists of oil bath gears and high resistance belts.
It is a self-propelled machine, able to deal with 30° maximum slopes in any inclination thanks to the forced lubrication oil pump.

The brakes on both wheels provide security and control on slopes and steep ground.

It has a speed of 2.5 km/h
The trimmer head will automatically stop when you release the controls.
You can leave the machine on a slope thanks to its parking brake.

The trimmer head will automatically stop when you release the controls.
For operator safety the standard equipment includes a steel grass guard, a transparent hard plastic protection in front of the engine and a flexible rubber strip between the wheels.

Apart from this it has an innovative stainless-steel anti-twist disc which prevents vegetation from wrapping around the cutting head.
| | |
| --- | --- |
| The height adjustable handlebar can be moved to either the right or left, and allows excellent control of the machine and also a comfortable work position. | |
| | |
| --- | --- |
| | The handlebar, in the transport and storage position, makes the machine very compact. |
Anti-slip toothed steel discs made of steel can be ordered as an optional and be fitted to the tractor wheels, ensuring a higher grip on slopes and slipping grounds.
By means of a pin it mounting is fast and can be done on site.
| | |
| --- | --- |
| | The saw blade, supplied as optional accessory, allows you to cut small trees up to 8 cm in diameter. |
Painting of all Grillo machines incorporates a double electrostatic powder coating process. At the first stage are the washing baths and preparation, then a first protective coat is applied which is then baked in a special oven, this has proven to be the best base for the application of the finish. The second coat consists of powder coating and still further baking in an oven at 190°C, this then produces the characteristic hardness and shine.
All machines are assembled with care in every detail and tested scrupulously by trained personnel. Final inspection will include running the engine in order to check all its functions and ensure the further and final guarantee of a first class product.
Grillo dealers will help you with quality and courtesy to make the right choice according to your needs. High-quality components quickly available even for 30-year-old machines.

Technical data sheet HWT 700 SUPERTRAC
Engine
Kawasaki FJ180V
Start recoil starter
Supply fuel
Displacement 179 cc, 1 Cylinder
Power 4.5 HP (3.4 kW)
Air cooled
Dry air filter with interchangeable filter cartridges
Fuel tank capacity
1.7 L
Transmission
mechanical with single-speed
Cutting configuration
nylon
Cutting width
60 cm
Cutting height
adjustable at 1.5 – 3 – 5 - 6 cm
Wheels
38 cm diameter, Tractor 3.50-8, driving wheels
Speed
2.5 km/h
Handlebar
adjustable and foldable
Brakes
mechanical, on both wheels
Standard features
grass-guard protection and automatic brake on the cutting roll
External sizes of the wheels
56 cm
Weight
62 kg

In action! Photos and Videos

Grillo HWT 700 Supertrac

Grillo HWT 700 Supertrac
Grillo HWT 700 Supertrac

Grillo HWT 700 Supertrac

Grillo HWT 700 Supertrac
Grillo HWT 700 Supertrac

Implements HWT 700 SUPERTRAC

Download

Full Range Catalogue 2023
(Download - file pdf - 22,93 MB)

HWT Trimmer catalogue
(Download - file pdf - 1,97 MB)
Categories
Products in the same category