G 107d
Exceptional performances, amazing versatility and great safety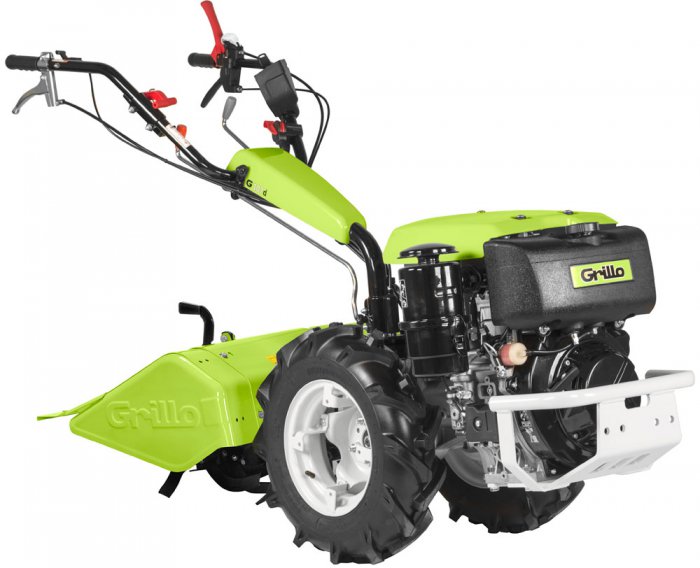 The Grillo G 107 d is a walking tractor equipped with a reversible handlebar and ideal for working on medium-sized areas. The six-speed gearbox with gears in oil-bath 3 forward gears and 3 reverse gears. The differential lock comes as a standard feature on this machine.
The G 107 d is also fitted with an automatic quick gear-inverter, a device that manages the drive when turning the handlebar of 180°.
The reverse gear handlebar is placed on the handlebar, and is easily achievable.
Together with its broad offer implements and its reversible handlebar, G 107 d turns out to be an extremely versatile walking tractor.
The implements can be attached via a flanged coupling or a quick coupling, available as an extra, without the need of tools.
A plough kit containing larger wheels, adjustable extensions, 180° turn-wrest plough and wheel weights is available as an optional attachment.
To achieve a greater stability on slopes you can widen the wheel track up to 25 cm by using the appropriate fixed or adjustable Grillo wheel extensions.

Technical data sheet G 107d
Engine
Kohler KD15 440
Start recoil starter
Supply diesel
Displacement 441 cc, 1 Cylinder
Power 11 HP (8.1 kW)
Air cooled
Oil bath air filter
Engine
Kohler KD15 440
Start recoil starter and electric with 12V battery
Supply diesel
Displacement 441 cc, 1 Cylinder
Power 11 HP (8.1 kW)
Air cooled
Oil bath air filter
Engine
Honda GX270 OHV
Start recoil starter
Supply fuel
Displacement 270 cc, 1 Cylinder
Power 8.4 HP (6.3 kW)
Air cooled
Oil bath air filter
Engine
Loncin G300FA
Start recoil starter
Supply fuel
Displacement 302 cc, 1 Cylinder
Power 9.3 HP (6.8 kW)
Air cooled
Dry air filter
Engine
Rato R300D
Start recoil starter and electric with 12V battery
Supply fuel
Displacement 301 cc, 1 Cylinder
Power 8.2 HP (6 kW)
Air cooled
Dry air filter
Fuel tank capacity
5.3 L eng. GX270 - 5.4 L eng. R300D - 6.1 L eng. G300FA - 5.0 L eng. KD15 440
Transmission
with oil bath gears
Gearbox
With clutch engagement. The walking tractor version has 3 forward gears + 3 reverse gears. The sickle bar version has 3 forward gears + 3 reverse gears
Reverse gear unit
Inverter: rapid type with lever
Clutch
conic active
Standard rotary tiller
Adjustable rotary tiller with x 4 tines, includes extension kits. Working width 680 mm
Hoes system diametre
32 cm
Working width
Adjustable at 680, 470 at 370 mm
Working depth
16 cm
Item no. standard rotary tiller
984611
P.T.O.
965 rpm independent of the gearbox. Clockwise rotation for the walking tractor version, anticlockwise rotation for the sickle bar version.
Differential locking
Differential with locking device by lever on the handlebar
Available tyres
Pneumatic wheels Tractor 4.00-8 (fixed disks), 4.00-10 (adjustable disks) and 5.00-10 (adjustable disks). Pneumatic wheels Tractor 5.00-12 (adjustable disks) for plough kit. Wheels made of iron having diameter 40 x 10 cm. Pneumatic Turf wheels 20x10.00-8 (extensions cod. 937112 needed)
Speed
With 5.00-10 wheels 1st gear 1,3 km/h, 2nd gear 3,1 km/h, 3rd gear 3,6 km/h
Service brake
Brake drum (kit upon request cod. 978111)
Handlebar
height and side adjustment, reversible
Safety devices
Active clutch, reverse speed – PTO cut-out
Weight
Weight: standard version 136 kg

In action! Photos and Videos

Grillo G 107d

Grillo G 107d

G 107d
Grillo G 107d

Grillo G 107d

Grillo G 107d

Grillo G 107d

Grillo G 107d

Implements G 107d

Download

Full Range Catalogue 2023
(Download - file pdf - 22,93 MB)

Walking Tractors catalogue
(Download - file pdf - 6,91 MB)
Categories
Products in the same category