G 55
Versatile and robust walking, with a quick coupling as a standard feature.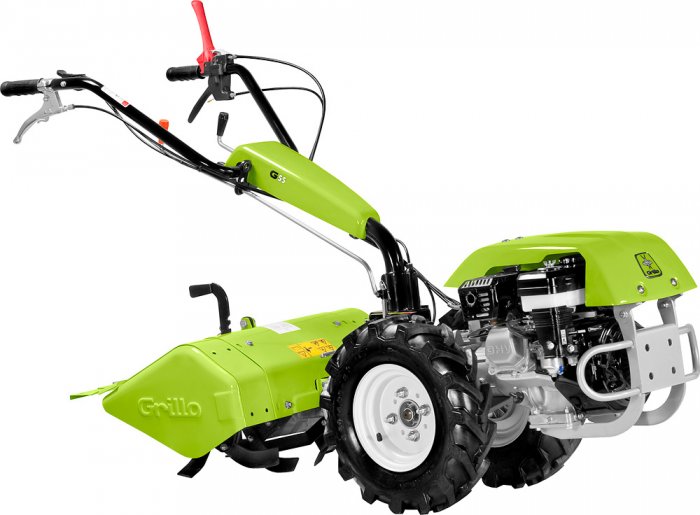 The Grillo G55 is an appropriate walking tractor for all kind of works on medium-sized areas.
It is fitted with a 4 speed-gearbox with gears in oil-bath, with 2 forward and 2 reverse gears.
G55 is an easily manoeuvrable and safe machine and offers the possibility to attach several front and rear-mounted attachments. Its handlebar can be reversed through 180° via a lever. The attachments can be connected through a coupling without the need to use tools. There is also the possibility to attach a plough kit containing large wheels, adjustable extensions, 180° turn-wrest plough and wheel weights.
It is possible to achieve a greater stability on slopes by widening the wheel track by 12 or 24 cm by means of the appropriate Grillo wheel extensions.

Technical data sheet G 55
Engine
Honda GX200 OHV
Start recoil starter
Supply fuel
Displacement 196 cc, 1 Cylinder
Power 5.5 HP (4.1 kW)
Air cooled
Oil bath air filter
Engine
Loncin G200FA
Start recoil starter
Supply fuel
Displacement 196 cc, 1 Cylinder
Power 5.5 HP (4.1 kW)
Air cooled
Oil bath air filter
Fuel tank capacity
3,6 L eng. 3000 OHC - 3,1 L eng. GX200 OHC
Transmission
with oil bath gears
Gearbox
With clutch engagement. The walking tractor version has 2 forward gears + 2 reverse gears. The sickle bar version has 2 forward gears + 2 reverse gears
Reverse gear unit
by lever
Clutch
conic active
Standard rotary tiller
Adjustable rotary tiller with x 4 tines. Working width 58 cm
Hoes system diametre
26 cm
Working width
Adjustable at 58 and 50 cm
Working depth
13 cm
P.T.O.
965 rpm regardless of the gearbox. Clockwise rotation for the walking tractor version, anticlockwise rotation for the sickle bar version.
Available tyres
Pneumatic wheels tractor 4.00-8 (fixed disks), 16x6.50-8 (fixed disks), 5.00-10 (adjustable disks)
Speed
With 4.00-8 wheels 1st gear 1,1 km/h, 2nd gear 2,6 km/h
Handlebar
height and side adjustment. Fitted on anti-vibration blocks
Standard features
Attachments quick coupling having 50 mm diameter
Safety devices
Active conic clutch
Weight
Standard version: 86 kg

In action! Photos and Videos

Implements G 55

Download

Full Range Catalogue 2023
(Download - file pdf - 22,93 MB)

Walking Tractors catalogue
(Download - file pdf - 6,91 MB)
Categories
Products in the same category