FD 500 Stage5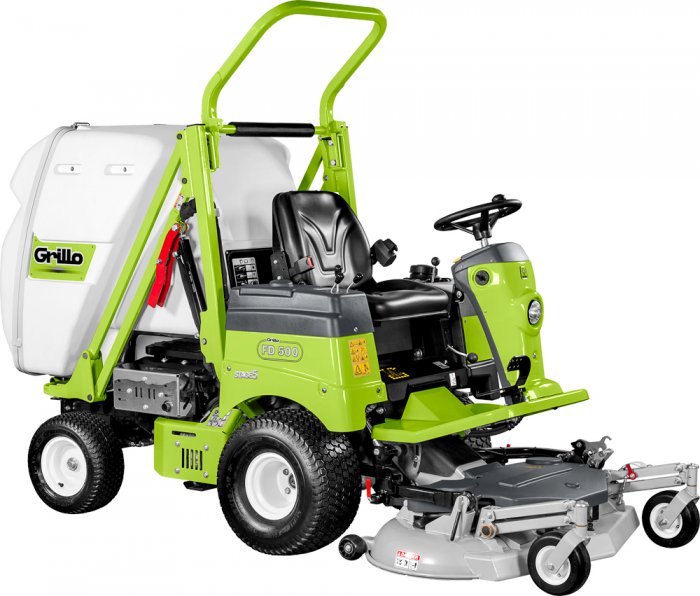 Technical data sheet FD 500 Stage5
Engine
Kubota D722
Start electric, with 12 V battery
Supply diesel
Displacement 722 cc, 3 Cylinders
Power 18 HP (13.2 kW)
Liquid cooled with electric impeller and equipped with automatic radiator cleaning device
Cyclonic integrated air filter
Fuel tank capacity
22 L.
Hydraulic oil tank
6,7 L.
Traction
hydrostatic, 2-wheel drive with cascade reduction gear, parking brake and differential.
Cutter deck
Cutting deck with collection
Cutting configuration
3 blades.
Cutting width
113 cm.
Cutting height
from 2.5 to 9 cm continuously variable and electric adjustment from the driver's seat.
Grass collector capacity
700 L.
Maximal discharging height
190 cm
Rear projection
15 cm.
P.T.O.
electormagnetic, with integrated blade brake.
Differential locking
mechanical with pedal control
Steering system
steering wheel with hydraulic drive, with pedal operated forward and reverse gears.
Speed
0-13 km/h continuously variable
Inner turning radius
32 cm
Tyres
front 20x10.50-8 GARDEN; rear 16x6.50-8 GARDEN
Seat
sprung and adjustable, seat belt included
Brakes
parking brake, disc brake on gearbox.
Mowing capacity per hour (indicative)
7500 m²/h
Implements
cutting deck with collection 113 cm, mulching kit.
Length
271 cm.
Width
119 cm.
Height
151 cm (roll-bar lowered); 193 cm (roll-bar raised)
Distance between axles
110 cm.
Clear span from the ground
12 cm.
Weight
610 kg (with cutting deck).

In action! Photos and Videos

Implements FD 500 Stage5

Download

Full Range Catalogue 2023
(Download - file pdf - 22,93 MB)

FD 500 catalogue - 2022
(Download - file pdf - 2,41 MB)
Categories
Products in the same category